www.burroughsbibliophiles.com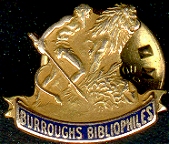 PALM SPRINGS ECOF 2023 & ERB STAR DEDICATION
April 4-6 ~ Tuesday-Thursday



ERB STAR CELEBRATION
WATCH THESE 20-30 MINUTE VIDEOS ON YOUTUBE
"Edgar Rice Burroughs in Palm Springs" (Part 1) - Welcome to the 2023 ECOF Gathering
https://youtu.be/vSrMWA-6u8E
Recorded by Henry Franke III ~ Editor: Burroughs Bibliophiles
"Edgar Rice Burroughs in Palm Springs" (Part 2) - Welcome to the 2023 ECOF Gathering
https://youtu.be/Td_Lpr3TwQs
Recorded by Henry Franke III ~ Editor: Burroughs Bibliophiles
Tommy Cook's Memories of Palm Springs and More - Welcome to the 2023 ECF Gathering
https://youtu.be/uciYSrf0qSM
Recorded by Henry Franke III ~ Editor: Burroughs Bibliophiles
Edgar Rice Burroughs Star Dedication Ceremony in Palm Springs, 4 Apr 2023
https://youtu.be/YM9MBmM3LWw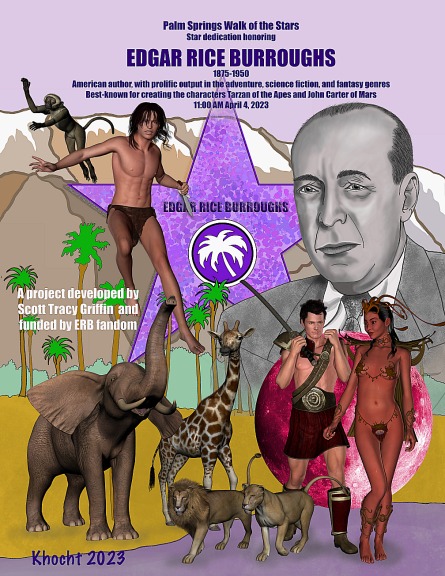 www.ERBzine.com/dumdum
Poster by Ahmed Khocht - Click or Tap for Full-Size



The Edgar Rice Burroughs Chain of Friendship gathering
Honoring the life and works of author Edgar Rice Burroughs
Hosted by the Los Angeles SubERBs chapter
of the Burroughs Bibliophiles literary society
Will take place Tuesday, April 4 through Thursday, April 6, 2023,
in Palm Springs, California
Featuring the unveiling of Edgar Rice Burroughs' star on the world-famous
Palm Springs Walk of Stars on April 4, 2023, at 11 a.m.
PHOTO GALLERIES OF THE EVENT
Start in ERBzine at:
www.ERBzine.com/mag77/7719.html


BB BOARD MEMBER ROBERT ALLEN LUPTON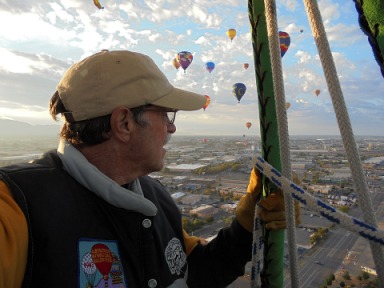 Has shared his ERB-Inspired 100-Word Drabble Stories
along with the daily ERB events, links and illustrations that have inspired them. . .
EVERY DAY SINCE 2018 (1,700 stories)
Read them ALL in ERBzine at
www.erbzine.com/lupton
REMEMBERING HUCK
We were shocked and broken hearted to learn of Huck's passing.
Huck -- longtime Burroughs Bibliophiles Secretary --
was a major force in ERB fandom for many decades and
his loss is lamented by thousands of fellow fans.
Our hearts and sympathies go out to his family and friends.
We have shared about 35 Webpages featuring Huck
that I have created for him in ERBzine over the last 24 years.
www.erbzine.com/huck


REMEMBERING KEN MANSON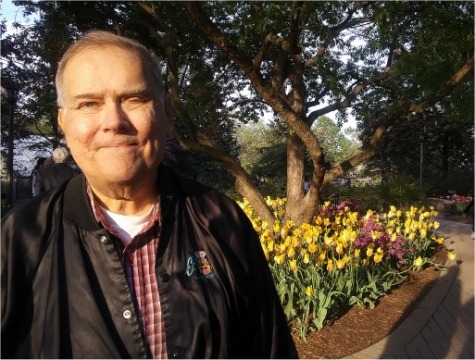 Ken Manson -- Burroughs Bibliophile Board Member and
Husband to Debra Lipinski -- Died November 7, 2022.
Visit our ERBzine Tribute at
www.erbzine.com/manson


The Latest Burroughs Bulletin Magazine
Editor Henry G. Franke III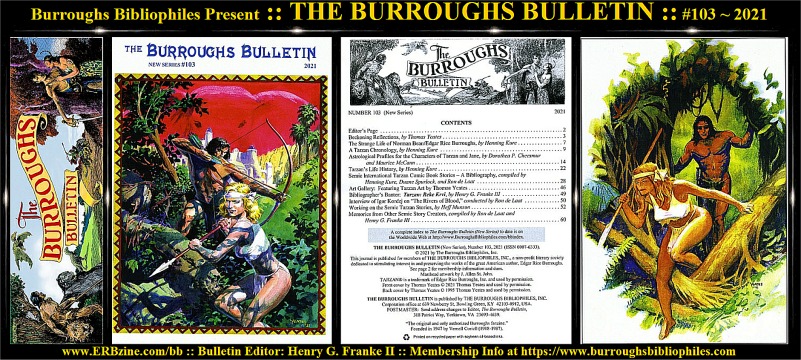 Click for full size


A Reminder for Bibliophiles
As Webmaster and Webhost for this BB site I created and have hosted
the most complete Illustrated Bibliography of ERB books for the last 20 years.
This giant project is featured on our ERBzine Companion Site at:
www.ERBzine.com/chaser
Over 90 Titles Across Hundreds of Pages
in Alphabetical and Chronological Sorts.
Publishing History ~ Covers: Pulps, 1st Ed, Reprints, Foreign, Comics, etc.
Backgrounds ~ Reviews ~ Links ~ Photos ~ e-Texts ~ Notes ~ Letters
The original interior art (St. John, JCB, et al)



For full information and registration for the
Official Dum-Dum Conventions
Go To
www.ERBzine.com/dumdum


SAN ANTONIO 2022 DUM-DUM :: JUNE 2-4
Was a Major Success.
Congratulations to Jim Goodwin and
The Texas Chapter of the Burroughs Bibliophiles
for hosting this event.



!!! Thanks to everyone who made this event such a success !!!
DUM-DUM 2021 :: Albuquerque, NM, USA
November 6 and 7 (Two Full Days -- Saturday and Sunday)
Organizer: Gary Buckingham
For photo coverage of the event see ERBzine
www.ERBzine.com/mag74/7460.html
www.ERBzine.com/mag74/7461.html


Photos and Reports from Burroughs Conventions Past
Enter Here


NEW ERB-RELATED MATERIAL EVERY FRIDAY



ERBzine Weekly Webzine ~ A Giant Compilation of Webpages
Over 15,000 Webpages Since 1996 in Archive:
Art ~ Articles ~ Comics ~ News ~ Fiction
www.ERBzine.com/mag


SPECIAL ERBzine GEORGE McWHORTER TRIBUTE ISSUE
May 10, 1931 - April 25, 2020
"Friend of so many in ERB World . . . and Beyond
We'll miss you old friend" ~ Bill and Sue-On
www.erbzine.com/mag/ez200501.html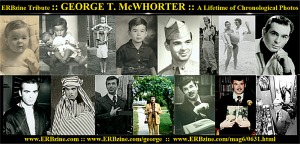 In this issue we feature 23 highlights from our
ERBzine Tribute which we began 20 years ago.
www.ERBzine.com/george
The Burroughs Bibliophiles is a worldwide organization of aficionados who share a love for the works and characters of the American author Edgar Rice Burroughs, the celebrated author of Tarzan. The group's membership list boasts its fair share of bestselling authors, artists, scientists, teachers, and academicians, as well as readers who simply love a good story well told.

The Burroughs Bibliophiles is a nonprofit 501c(3) literary society devoted to studying and promoting interest in the works, creations, and life of Edgar Rice Burroughs, including the globally popular icon, Tarzan®. The Burroughs Bibliophiles was founded on 4 Sep 1960 and adopted "The Burroughs Bulletin" journal, the only such publication personally approved by Edgar Rice Burroughs.

Membership benefits include four issues of the journal, "The Burroughs Bulletin," and as many issues of the newsletter, "The Gridley Wave," as are published during the time span of those four Bulletin issues.

The Bibliophiles also sponsor an annual convention, "The Dum-Dum," normally held in the summer months. For more information, contact the Editor, Henry G. Franke III, BurroughsBibliophiles@gmail.com, or see the membership registration form. The Burroughs Bibliophiles membership continues strong, indicating that the organization's namesake will continue to be one of the world's most popular authors well into the twenty-first century.

We invite you to learn more about the Burroughs Bibliophiles, and to take a tour of The Burroughs Bulletin. Join hundreds of other enthusiasts by joining The Burroughs Bibliophiles today.
Wishing the fans of Edgar Rice Burroughs
All the Best for 2022
and we offer an invitation to
join or renew your membership in the Burroughs Bibliophiles.
BYLAWS OF THE BURROUGHS BIBLIOPHILES, INC.
PDF File Amended 5 August 2016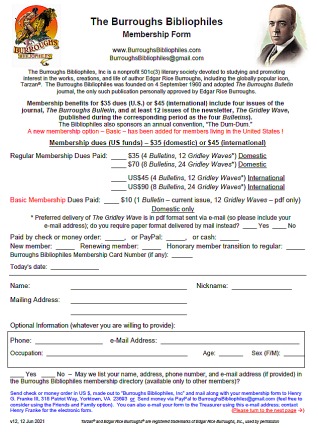 Click for full size Membership Form as a jpg file


Visit the
The Burroughs Bibliophiles Facebook Page
FOR MEMBERSHIP INFORMATION CONTACT BB
Editor: Henry Franke III
BurroughsBibliophiles@gmail.com
.



PREVIOUS EDITIONS OF THE BURROUGHS BULLETIN
COVER ART AND CONTENTS
BB Index
COVER COLLAGES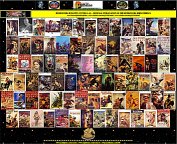 .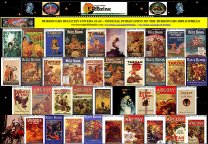 .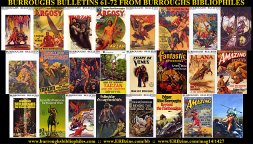 .

Click for full-size collages
Many Back Issues are still available from the current editor.


.
NEW ERB-RELATED MATERIAL
EVERY FRIDAY

ERBzine Weekly Webzine
A Giant Compilation of Webpages
Over 15,000 Webpages Since 1996 in Archive
Art ~ Articles ~ Comics ~ News ~ Fiction
www.ERBzine.com/mag
ARCHIVE

.Current Board Officers and Members are:
Gary Buckingham, Chairman, Assistant Treasurer
Mike Conran, Vice Chairman
Henry Franke, Treasurer
John Thompson, Secretary
Scott Tracy Griffin ~ Jimmie Goodwin ~ Robert Lupton
Bill Wagner ~ Bill Hillman ~ Bob McGeeney

Tarzan® is a registered trademark of Edgar Rice Burroughs, Inc.
Opinions expressed in articles on this site do not necessarily represent the opinions
of Edgar Rice Burroughs, Inc. or the editors of the Burroughs Bulletin.
Contact Volunteer webmaster Bill Hillman at: tarzan@wcgwave.ca
www.hillmanweb.com