Burroughs Bulletin #82: New Series
Date: Spring 2010
Page Count: 40 pages
Contents
Editor's Preface: George McWhorter introduction
---
Notice from Editor George McWhorter: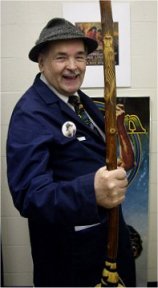 I regret to report that this is my last issue of The Burroughs Bulletin as editor. My twenty-year stint as editor has enriched my life considerably, and the list of friends made along the way is awesome. But I shall not withdraw completely from the production end of The Burroughs Bulletin and will continue to provide formatting, graphics, and mailing of the magazine. Henry G. Franke III will become our new editor with BB#83, and we have been working together to make a smooth transition without bumps. The Chairman of the Burrougths Bibliophiles Board, Laurence Dunn, has written a gracious letter of farewell which is found on page 34. Thank you, Laurence, for your kind words!

Meanwhile, I exit on an upbeat in the Burroughs universe, with new films, books, and artwork testifying to the permanent establishment of Edgar Rice Burroughs as a major literary figure on the international scene. Fifty years ago I wasn't sure the recognition would come, but now I know it is fact.

---
Vernell Coriell: An Autobiography (Speech before the Kansas City SF&F Society Sep 11, 1971
Illos: BB #1 cover | Coriell Circus Act Poster
Coriell Photos: Dad & kids | as Tarzan | with Frank Merrill | as paratrooper 1942 | with ERB, Barker & Mike Pierce | McWhorter presents Lifetime Achievement Award
Vern Coriell and Me by Robert R. Barrett
Coriell Photos: Inscription to Bob Hyde | with Frank & Holly Frazetta | with Hal Foster | with Weissmuller
Illos: Cover: Jewels of Opar art portfolio by J. Allen St. John | Tarzan cartoon by Coriell
A Memory of Vernell Coriell by Cecil (Wally) Blackburn
Photo: Blackburn in garden
Vern Remembered by John (Carter) Tibbetts
Illo: House of Greystoke Guestbook page with Frazetta & Frazetta, Jr. inscription 1967
Comrades to the Core by Frank Puncer
Photo: Juggling Coriell on Unicycle dedicated to Bill Gilmour
Illo: Tarzan art on Xmas card from Rita and Vern sent to BB members - to Bill Gilmour
Picture Gallery: Thark Warrior by William Stout, 1998.
To Be, or To Be Perceived? - The Philosophical Questions in Thuvia, Maid of Mars by Maciej Roszkowski
Thuvia Cover Art: Michael Whelan (Ballantine 1979), P.J. Monahan (All-Story April 8, 1916), Zoltan & Gabor (Hungary 1992),
Motoichiro Takebe (Japan 1971), Manolo Prieto (Spain 1944), Zdenek Netopil (Czechoslavakia, 1977)
Painting: George Berkeley by John Smibert (1685-1753)
Walter Clinton Pettee: The First Vision of Tarzan by Rober Hill
Cover Art by Pettee: All-Story:Tarzan of the Apes - Oct 1912, Jan. 1912, Oct. 1911, May 1911, July 1911, April 1912 | | Scientific American Nov. 3, 1917
Misc. Illos: Baker's Cocoa ad 1926 | Fountain Pen Patent 1903 | Death Certificate Dec. 12, 1937 | Evergreen Cemetery, Morristown, NJ | Kemper Chambers - Historian
Letter: Recognition of Editor George McWhorter's partial retirement sent by BB Chairman, Laurence G. Dunn
Letters: Robert Barrett, Dan Fite, Kim Neidigh, Denny Miller, Patrick Premo, Frank Cohen
Vern Coriell Circus Act Poster: "Gymnastics, Juggling, Tumbling, Roly Boly" - Photo of Coriell with props